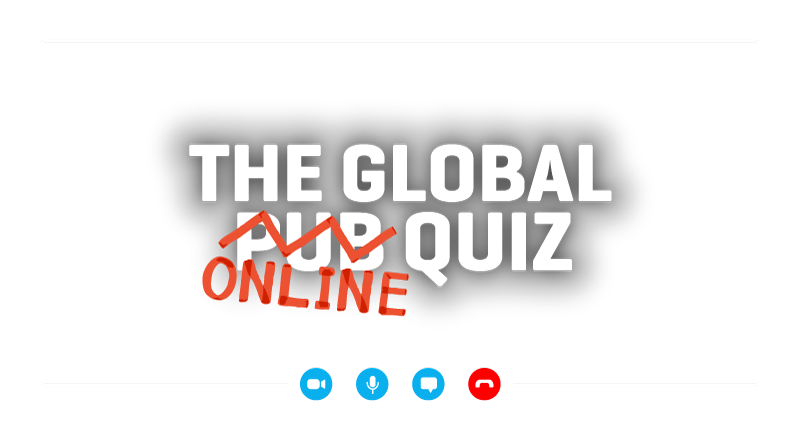 Online general knowledge quiz!
The Global Online Quiz was a worldwide mass participation pub quiz that aired as live online quizzes between March 2020 and January 2023. Each edition, thousands of players from all around the world competed against other local & global teams. We had a blast hosting close to three years of online quizzes and we loved getting to know so many wonderful quizzers from all over the globe; our very own online quizzing community! As of January 2023 we are no longer producing any new editions of the Global Online Quiz.
You're welcome to enjoy re-watching any of the 50+ editions we have on our Youtube channel. Keep the fun going! Currently, we are working on developing new projects and we hope to see you all back in one of our live online events soon!

🌎Gather your colleagues, friends and family from all around the world and keep enjoying our quizzes! ❤️
Enjoy our quizzes
You can re-watch any of our 50+ Global Online Quiz editions on our Youtube channel. Each quiz is about 2 hours long, so make sure to have a tasty drink and a stack of answer sheets ready. Invite some friends, pop over to the neighbors' house, kick back with your colleagues to close out the workweek or reconnect online with loved ones across the globe; keep enjoying our quizzes, at any location and any time you feel like it!
Keep quizzing!
Write down your answers
It's all about the fun: all you need is a pen and paper. You can also download our printable answer sheets. Keep score yourselves after each round and pat yourself on the back for a job well done afterwards. Still curious how your team stacks up against other teams that played this quiz before? Yup, we get that. Simply make note of the quiz edition number and look up the scores of that quiz on our Facebook page.
Check our Facebook
Contributions are welcome
All Global Online Quiz editions are available for everyone to enjoy at any time. We've been blessed to have had players from so many different corners of the world joining the fun and we really hope you enjoy the quizzes too! A lot of time and effort has gone into the production of these full length quiz shows. If you had fun, we'd appreciate a contribution, the amount is completely up to you / your team. Thank you!
Contribute
Ready, set, quiz!
"You don't need to be Sheldon Cooper to enjoy this quiz. It contains something fun for everyone! From European landmarks to Asian cuisine. From Hollywood films to music. From local sports to international celebs and much more. It's a general knowledge pub quiz, hosted in English. The quiz contains several different types of rounds. We always finish on music. Singing along is highly encouraged – I can't hear you anyway! 😉  " – Your quizmaster: Julinka van Keulen
A winning team always comes prepared.
About Number 42
Curiosity, decisiveness and craftsmanship. What that yields? A quiz experience with impact. The effect? Pride, energy, solidarity and, of course, fun. For almost ten years, we have been delivering the complete package from the heart of Eindhoven, The Netherlands: custom-made, professional quizzes. From creative concept to execution. From custom quiz questions to general knowledge questions. We deliver knowledge quizzes that people will talk about for a long time afterwards.