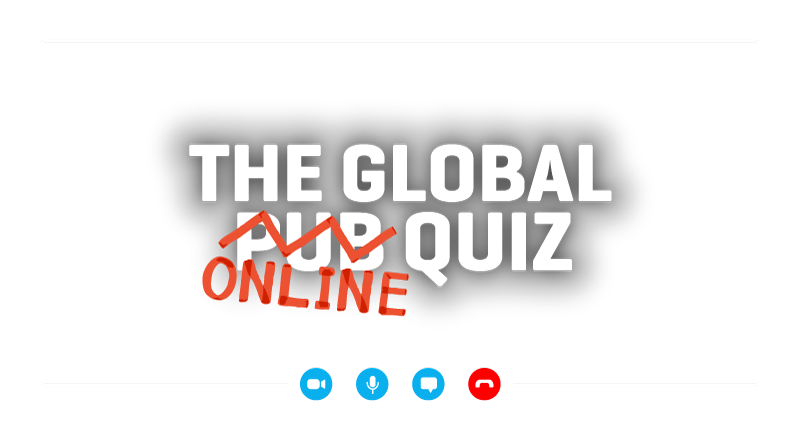 Live stream general knowledge quiz!
Fifth Edition: Saturday July 4th 2020 – 20:30 UTC +2
Invite your colleagues, friends and family all around the world. Let's make sure to stay socially connected in these confusing times ❤️ During our last edition, we welcomed thousands of players from over 70 different countries! 🌎
Live Streaming Quiz
Join the fun! You'll be able to watch the quiz via a live stream on our Youtube channel. The stream will go live around 20:00 PM Netherlands time. The show will start at 20:30 PM and last till about 23:00 PM. You can check your local starting time here! Be prepared: make sure to have a tasty drink, a video chat with your teammates and a stack of answer sheets ready.
Live stream
How to play?
This quiz is all about the fun: Everyone is a winner! No voting system: just a pen & paper. For that real quiz feel you can download printable answer sheets. No printer? Grab a few sheets of paper and number each one 1 to 10. You'll keep score yourselves. You can submit your final score here if you'd like to be included in our ranking. This will be published on our Facebook page.
Answer Sheets
Pay what you want!
We love helping to keep everyone around the world connected through the Global Online Quiz. That's why it can be played for free. However, if you enjoyed the quiz, please contribute if you're able to! We hope to keep hosting the quiz and perhaps even up the frequency in the future. But we can only do that if enough players contribute. Let's see if we can keep uniting the world through trivia!
Pay what you want
Ready? Set? Quiz!
You can play the live stream on your TV, computer, laptop, or smartphone. You can simultaneously set up a group chat / call / video conference with your colleagues, friends, and/or family members. Or simply play with your quarantine buddies from the comfort of your own sofa. While the questions are being asked, you'll need to pay attention to the quiz show, but naturally we'll make sure you have enough time to discuss the answer with your team after each question.
You don't need to be Sheldon Cooper to enjoy this quiz. We've prepared a general knowledge quiz in English that should contain something fun for everyone! From European landmarks to Asian cuisine, from Hollywood films to music from all over the world, from your favourite sports to your favourite celebrities and much, much, more. There will be several mixed bag rounds, a special themed round and naturally: we'll finish on a music round! Every question will be supported with images and/or audio and video.
Let's once again make this a global get-together connecting lots of friends, colleagues and families all around the world 🌎 Last edition we had thousands of players joining from over 70+ countries.
For all our European players, this quiz will be a perfect way to enjoy a Saturday evening with friends. It will serve as a nice Saturday lunch quiz in San Francisco, an afternoon quiz in New York and Rio and a midnight quiz for all you Indian quiz fans.
About Number 42
Curiosity, decisiveness and craftsmanship. What that yields? A quiz experience with impact. The effect? Pride, energy, solidarity and, of course, fun. For almost ten years, we have been delivering the complete package from the heart of Eindhoven, The Netherlands: custom-made, professional quizzes. From creative concept to execution. From custom quiz questions to general knowledge questions. We deliver knowledge quizzes that people will talk about for a long time afterwards.
Tell me more!