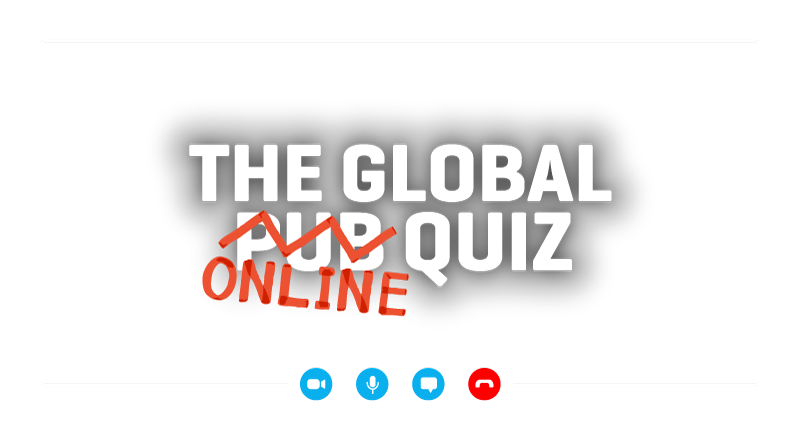 Online general knowledge quiz!
Next edition: Saturday January 21st 2023 – 20:30 UTC +1
The Global Online Quiz is a worldwide mass participation pub quiz. Each edition, thousands of players from all around the world compete against other local & global teams 🌎  Make your own team by inviting your colleagues, friends and family and join the fun! ❤️
Join the live event
You can watch the quiz as soon it premieres on our Youtube channel, checking in with other teams on the live chat. You can also watch it at a later date or time, simply choose whatever works best for you. The videos will premiere at 20:30 PM Netherlands time and each quiz show is about 2 hours long. You can check your local starting time here! Meet up with your teammates to watch the quiz together from a nice venue, or set up a (video) chat and meet your team mates online. Make sure to have a tasty drink and a stack of answer sheets ready.
Next Quiz
Write down your answers
It's all about the fun. There's no voting system: all you need is a pen and paper. You can also download our printable answer sheets. Keep score yourselves after each round, or ask an other team to check your answers if you're playing in a local competition. Show us how you did! Submit your final score for a spot in our global ranking, which is published on our Facebook page two weeks after a new quiz has premiered, allowing everyone plenty of time to play the quiz at a moment most convenient for them and still be included in the ranking!
Submit your score
Pay what you want!
The quiz is open for everyone to join and it's great to have players from so many different corners of the world joining the fun. We really hope you enjoy the quiz! If you had fun, please contribute if you can. The amount is completely up to you / your team. Pay whatever you think is a fair price for an evening of pub quizzing entertainment. A lot of time and effort goes into the production of these full length quiz shows, which means we can only keep making them if enough players contribute. Let's do this together!
Pay what you want
Ready, set, quiz!
"You don't need to be Sheldon Cooper to enjoy this quiz. It contains something fun for everyone! From European landmarks to Asian cuisine. From Hollywood films to music. From local sports to international celebs and much more. It's a general knowledge pub quiz, hosted in English. The quiz contains several different types of rounds. We always finish on music. Singing along is highly encouraged – I can't hear you anyway! 😉  " – Your quizmaster: Julinka van Keulen
A winning team always comes prepared.
It's great fun to play the quiz simultaneously with players from all over the world! To join us live, check out your local starting time for the upcoming edition.
You can also start watching an hour, a few hours or even a day later. The show can also be paused at any point during the live stream and continued from that point. In that case, the quiz won't be live, so you won't be able to actively participate in the live chat. But you can still have a great time with your friends! Scores can be submitted for a spot in the ranking until roughly 36 hours after the premiere. And in case you were worried: the payment link remains permanently active, so you can always chip in at any time 😀
Run a Global Pub Quiz venue
Do you know a great pub, sports club or other local venue you would like to host the Global Online Quiz in? We encourage anyone to use the quiz for a local competition in their venue. We only ask for one thing: don't charge the players for the quiz – encourage them to contribute for their participation through our online payment link. Players will of course pay you for their drinks and snacks. All you need is a steady internet connection, a table for each team, a screen and sound. Print a stack of answer sheets and have teams check each other's answers after each round. You can even calculate a final ranking for your participants at the end of the quiz!
About Number 42
Curiosity, decisiveness and craftsmanship. What that yields? A quiz experience with impact. The effect? Pride, energy, solidarity and, of course, fun. For almost ten years, we have been delivering the complete package from the heart of Eindhoven, The Netherlands: custom-made, professional quizzes. From creative concept to execution. From custom quiz questions to general knowledge questions. We deliver knowledge quizzes that people will talk about for a long time afterwards.